Day 1
I have vowed to keep a reflective diary of a week in the life of an FE teacher. I guess I'm writing it more for myself than anything. Others are very quick to criticise my workaholic lifestyle. Some do it out of concern for my health, others say it because they can.
I know that I have a work filled life at the moment but on the whole, I have done this because I've chosen to and because I love my job. It's also because I'm just that kind of person!
Day 1 began at 7.15am today with my alarm soothing me awake. I have a new app that measures my sleep cycle and it suggests I was only in a deep sleep for approximately 1 hour. For the remainder, I was just about awake. No wonder I'm so tired all the time. I have no idea how accurate this is but because I saw a graph with numbers and lines, I believed it to be true. I will try it again tonight and see. Whatever it says, I'll probably just believe it!
As is the case on any morning when I intend to go into work super early, I mess around and arrive in work at 8.20am. Ah well, I'll try again tomorrow! Before I left, I spotted a gigantic spider on my window. I took a picture and texted it to my mum to see if she knew what kind it was (this might be one such unnecessary activity that leads to lateness!) It was hanging on the outside of the window but my text probably didn't express that particularly successfully. She rang me straight away, thinking I was worried about it being inside- oops! I then had a nice chat with her but felt sad afterwards and cried a little. I am far from friends and family and after a weekend of non-stop planning, marking, Monday morning and a spider outside, I felt a strong pang of home sickness.
This was fairly soon forgotten as I left, crumpet in hand. I am a northern lass and easy to please. All it takes is some nice, tasty food! Preferably butter soaked and not very good for me!
I arrived in work, buzzed through the gate and made my way up to my floor. This week is the first ever open classroom week and has been planned by the Pass It On CPD team. All staff have been given a red and green door hanger and within 10 seconds, I had already seen 3 of them, hanging green side up. I took some pictures like some crazy tourist and posted them excitedly on Google + for my colleagues to see. I knew I had lessons until lunch so I wouldn't be able to wander until then. Very sad face 🙁
I went straight to my classroom, sent off my printing for the morning and set up various resources. This, as usual, involved several dashes between my classroom and the staffroom as I kept on forgetting blue tack, scissors, A3 paper, coloured pens… Oh crap, and the projector remote!
My 9am class has had increasingly poor attendance and punctuality over the last few weeks. I don't know what to do about it. This wasn't a good start to my day. Even sadder face 🙁
It got better. Last week, the students had planned mini lessons and delivered these effectively; covering character voice. They needed more time. I'm going to give them full lessons to deliver in future. Two of the best deliverers are students who struggled last year at College and showed a poor level of commitment and motivation. It turns out that second chances can work for some and I couldn't be happier about that! Slightly happier face 🙂
So far, green door hanger and no visitors, maybe next lesson… Is that the time already? Where does that 15 minute break go to? That cake will have to wait…
My A2 class arrived and they were well humoured, if a little lethargic and Monday mooded. A couple of students who I haven't seen for a few lessons appeared again and this was a happy event 🙂 I had a workshop lesson planned as students needed to decide on coursework essay titles. Most of them succeeded in this by the end of the lesson and I've had a couple of emails since… which I need to read and reply to.
To be honest, lessons like this, where students are working on totally independent things are very difficult to control and manage. I possibly feel this way because I need to be in control and don't like letting go as much as this. I was trying to keep check on every individual, all at once, whilst I felt like Stretch Armstrong being pulled by students' questions every which way. Don't get me wrong. The students are trained in working very interdependently but they needed to confirm the titles with me and the questions and conversations with each individual couldn't be avoided.
I felt frazzled already and it was only lunchtime.. Still no visitors 🙁
I was really excited to get out and about to peek behind the green doors so I tidied my classroom, grabbed my iPad and headed off on a hunt for green. I saw lots of it, but no students. That's when I realised most were probably in lunch! Duh!
I ate my lunch at my desk, tidied up a little, answered some emails, spoke to some students and then it was 1.20pm. I decided now would be the best time to head off on a little green coloured adventure. I vowed I'd be back at my desk by 2pm to start some actual work.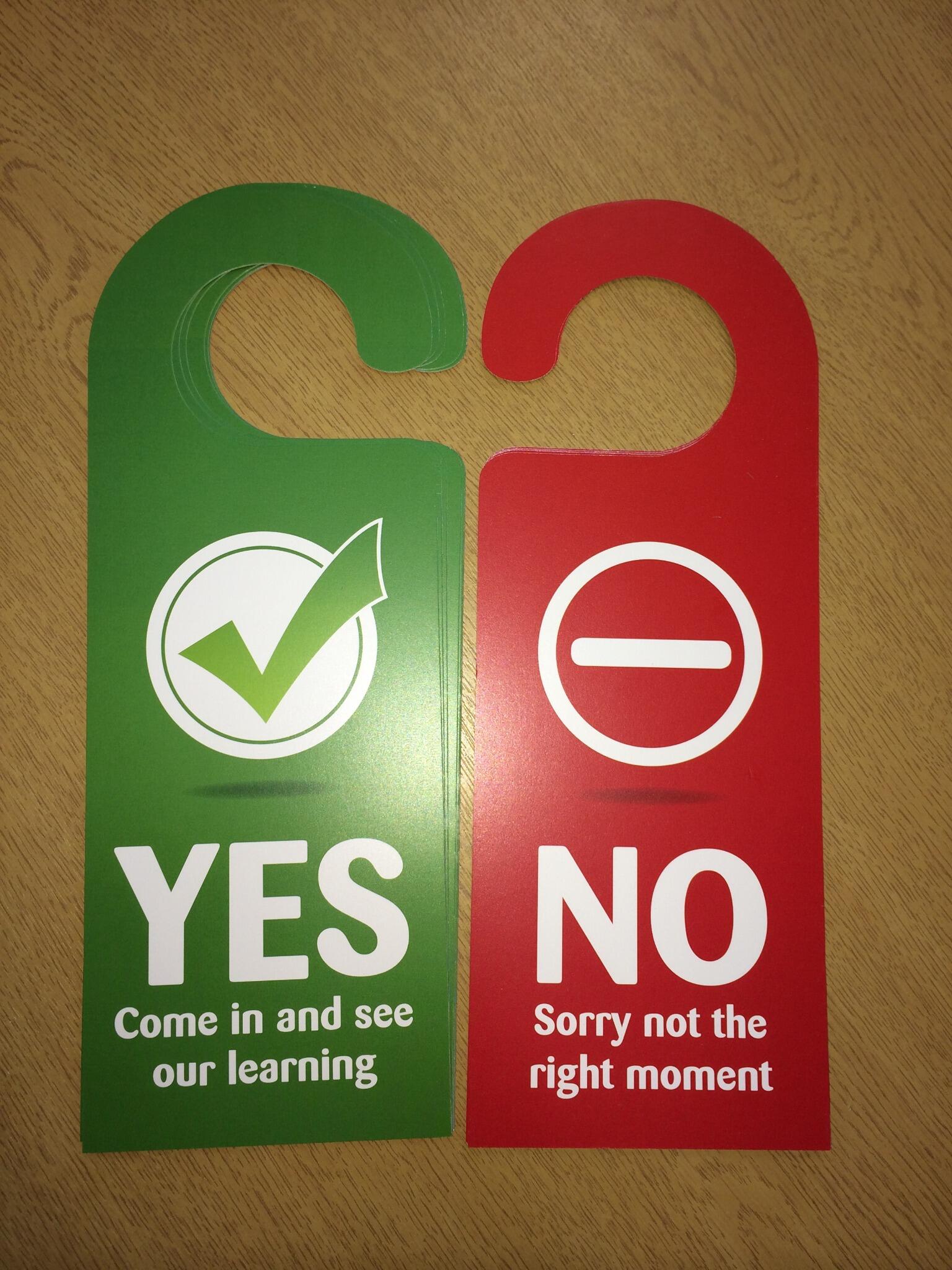 I headed up onto D floor and wandered round to science. I found a green sign. I was about to go in and then I lost my nerve so I went skulking off out of sight. Then my dad's voice broke into my brain, 'Get a grip!' The door is green. Just go in. I marched more purposefully towards the door and then, oh god. What if the teacher didn't know it was on the door? Argh. The door was open. I held it ajar. The teacher looked up. I pointed bizarrely in a Mr Bean fashion to explain my presence. I then remembered that my voice existed. I asked, 'Is it ok if I come in?' She said, 'Of course' and gestured me in. I saw students going through homework questions. One student wrote their answer on the board whilst others suggested their own changes and solutions. I knew nothing. It was physics. It was awesome to be sat in a physics lesson. I hadn't been in one since school. I would never have spent my Monday afternoon in this way before. Wow!
I typed my comment on the Padlet wall and left. First though, there was a significant length of time spent glancing furtively at the door, gulping and fretting. Did I need to say thank you? Does she expect me to stay for the whole lesson? Would she be offended? Then I was up and out and onto the next. Phew. A decision had been made. My dad's voice once more, 'Get a grip!'
I walked down to BITE and spotted a number of green hangers. Then a door, wide open, with a noisy (in a good way) class AND a green hanger. This was perfect! I walked in. Argh. No seat. Where do I go. Oh, looks like I'll just perch awkwardly on this here desk.
Here, I was welcomed and introduced. The buzz in the room was brilliant. The students were focused on the teacher's introductory lesson questions. They were then set off to work with each other on their projects. Without a moment's hesitation, they were off! They were working away, asking each other for help and full flow was in action. I asked the students what they were doing (making a computer game) and they showed me all of it. I left the room wishing I was a student in that class. It feels such a privilege to be able to go into other people's often so private learning spaces.
I popped into two more rooms at the end of the corridor. In one, another embarrassing moment. I searched for a seat, couldn't see one, stood in the door feeling like a total plonker and then dashed awkwardly across the room to one I could see.
I left this floor feeling satisfied and determined to return to my desk. I got down to my floor and thought I'd just check out the other half of my corridor. It seemed sensible. I was inches off it, after all!
I went into two more rooms- one had an open door and a line of seats- the sheer joy! I added my thoughts to the Padlet and finally returned to my class. No, wait, was that another green door I just passed? A green door with an English class in it? Too tempting to resist! Here, I enjoyed some calm discussion. Why are my students never this calm? It was beautiful! I was jealous. I returned to my desk super excitable but questioning if people would have left feeling so excited if they'd been into my room this morning…. hmm… I guess I'll never know. Probably for the best.
Back at my desk, I sorted some printing of resources for the rest of the week, replied to some more emails, put two students on the safeguarding register and headed to a colleague's class that I'm sitting in on at the moment.
I left there at 3.20pm to go to a meeting and thought I'd just have time to dash along to a colleague's class I knew was green. I tried the door handle one way- no movement. Tried the other, still none. I crouched out of sight for a split second and then ran away!
I headed to my meeting to plan future Pass It On CPD activities, including our advent calendar- I can't wait. We've had one resource donated already!
I then headed back to see the end of my colleagues lesson, chatted with her afterwards and then remembered I was delivering some 'top tech tools' training. I had decided last minute, due to no confirmed room booking, to pop to our collaborative learning zone to deliver this. It was pitch black when I got there and there were no staff around. I bumped into a colleague, we caught a brief chat and I headed back to my desk… Or so I thought!
Another green sign had emerged and was waving at me. I went in and students here were fully engaged in planning their ideas for a controlled assessment using Chromebooks. Such strong resources envy!
I finally got back to my desk, tidied up, had a mini meeting with my manager and then sorted final resources for tomorrow's only lesson.
Tomorrow is my last quiet day of the week in terms of teaching. In this particular week, this presents a clear danger. I MUST refrain from opening green doors all day. I have a graded observation later on this week that I need to ensure all the paperwork is in order for, I need to finalise a couple of lessons, reply to a gazillion emails, do more academic induction planning, Pass It On CPD things, failure and success weeks planning and marking!
Must resist the lure of the green.
I arrived home at 7.30pm after phoning a friend on the walk home and buying some food. Here, I made a poster and drafted an email to send to staff to remind them about open classrooms week. I wrote this reflection, ate dinner, did some marking and got into bed with a book (those last three are intended things but we all know how easily my intended actions fail!)
Hopes for tomorrow:
I hope I manage to ACTUALLY get in early.
I hope it is a super productive day.
I hope that I experience a lesson I'm happy with for once in my life (tall order).
I hope that I find time for a chat with a friend (on the phone. They're the only kind I have at present).
Oh… And I hope I don't overdose on green doors! Wish me luck!
Day 2
Today began at 7.15am but I didn't get to work until 8.35am- how on earth did that happen?
I have always walked to work… ever since I began working. I lived just 10 minutes from my school. At the age of 16, I was a 15 minute walk from my many part time jobs. In Newcastle, I was a 35 minute walk from work, then a 40 minute one and now I'm 20 minutes away from work. My walk today began with this:
Quite a motivational way to begin the day! I don't know who the boys were but they were back!
From January, I'll be commuting and I intend to make every moment that I 'm still walking to work, count. That must be why it took me so long today! Oh, and the spider's still there by the way…
I arrived in work and for the first hour, I was incredibly productive, my to do list was gradually disappearing from my Google Document. I love Google, did I mention that?
Then 9.30am arrived and I had a meeting to go to in B-100. This involved moving away from my desk, and we all know what that lead to yesterday- green doors!
I was a mere 6 doors down from my staffroom when I saw the first green door hanger. A colleague saw me and knew what I was up to… That vow of having a productive day was straight out of the window.
I sat in on a lovely maths lesson where students' confidence was nurtured and they were enabled to approach a question using any method they preferred. It was a real joy to see that!
B-100 is our collaborative learning space and here I found a history class, health and social care students and business students all learning in the same space. Where else could you see three very separate groups of students working in the same space, and in relative quiet too?!
I then jumped in on a green door of a colleague I have wanted to see in action for some time and he didn't disappoint; employability 'superpowers' and a Mexican wave. I also sat in on another maths lesson, this time it was functional skills. The students were all so focused on their activity and what struck me was the really wonderful rapport this teacher had with each of her students.
I headed back upstairs and I replied to some emails- where do they all come from?! I checked over my lesson for later and then noticed an email with a green flag from the dance studio. My assistant principal forwarded it as she was not on site and was unable to make it… just a quick trip out, I promise!
The dance studio was fantastic; the learners were so involved in critiquing one another, planning their pieces and performing well- they even wanted to work through their break!
I stayed longer than I should here but I was thinking about failure and how these students seemed so well adjusted to it; perhaps as it was such a visible part of the process of their learning they were used to. How can I get my students to embrace failure in such a positive way?
I then headed back into the building and I ventured past the LLDD department on my way. I went into 4 green doors here, but not for very long. I'm finding I'm becoming much quicker as the week wears on.
I found here that students were engaged, encouraged and confident. Some wonderful things to see with such low level students; using iPads, practising literacy and numeracy and learning sign language (as an embedded part of the course).
Before I reached my desk, my own classroom, C6, had a green door hanger on it. I decided I'd enter, and that's when the teacher said he didn't know it was there. I didn't know whether he was joking after my post yesterday and nerves about entering so I left anyway… An awkward moment for both of us this time.
I then returned to my desk, ate half a sandwich and realised I needed to set up for my lesson after lunch.
I went and did that (we needed lots of floorspace!).. and then I never finished my sandwich. 🙁
Lesson time had arrived. I had eagerly set out two chairs near the door, put slips out explaining what we were doing and I was excited about the lesson, as well as the prospect of visitors. No-one came… a real treat was missed 🙁
We had a confession circle where students owned up to all the mistakes they make with their work. They were given Hail Marys by me, there was a confessional booth picture on the board and church bells playing in the background. I admitted to making my sentences too long and using too many exclamation marks!
The lesson then had another immersive experience, one which I'd read about on
Rachel Jones
's blog. I had recorded me reading an academic essay on crisps at the weekend; the author had succeeded in making something banal sound far more academic. I asked all the students to lie on the floor and we made the room dark. The darkness meant that there was a calm environment and students could focus solely on the words being spoken.
It worked. Students were totally calm and were able to talk about the essay afterwards.
We then had a competition with several tasks. Students worked in pairs and couldn't be given the next challenge until they had finished the first. The room was busily quiet, and I liked having the tables facing the walls around the perimeter of the room as it meant students just had to focus on what they were doing and ensuring it was done well.
So, my colleagues missed a treat and a real adventure awaited them behind that green door today. No bitterness or disappointment here at all! 🙁
So then I had to prepare resources for my Connect/ Recall&Review 30 minute CPD session at 4.30pm.
I sorted that, ran it, had fun… unsure whether anyone learnt anything… I'll await the feedback!
I then had a meeting with a colleague, which ended up taking far longer than it should have.. I feel like I helped them though, and that's the important part.
I FINALLY returned to my desk and almost cried at where the day had gone. A colleague was still there and we put the world to rights.
We then realised that another colleague of ours would still be teaching. We had predicted that he wouldn't have taken a green door hanger as it was an evening class so we cheekily took one with us so we could have a sneaky peek into his lesson. In fact, when we arrived, he did have a green door hanger there already! We entered and had fun. There was such a high level of energy for such a late night class.
I returned to my desk, attempted to complete some work, failed miserably but got a lift home. Walking ain't all it's cracked up to be, you know!
I didn't achieve anywhere near as much as I should have today. It's going to be a LATE night!
Green doors are limited to one tomorrow- but it should be a good'un! I'm heading with direction tomorrow and I promise, without crossing my fingers, that no other green doors will tempt me.
Day 3
I don't know where I am today… what day is it… oh crikey, two days left?! Only 3 days gone?! I'm currently in that strange time warp of thinking the week is flying by so quickly yet feeling sheer disbelief at how much of the week is left!
I only entered one green door today. I actually stuck to my plan! What might surprise you is that this has been the best day of open classrooms week so far. How could it be when I've been on so few green door adventures? Well, read on…
My day began with my first red door of the week. Don't judge me, please. I had students in tutorials and it just wasn't appropriate as I needed some 1-1 sessions with some particularly troublesome individuals. It was a busy hour and a half and whilst I did this, students planned a topic to teach to the rest of the group as part of their revision. One group of students had their fundraising planned for the rest of the day and there was a lot to manage all at once. I always feel after 1-1s as though I've made a breakthrough with certain students as we set targets and resolve to move on. Hopefully, my hopes will be realised with one student. He's currently in self-destruct mode and I don't want to be a spectator of it any longer. I will keep on trying to rescue him from the brink.
I then ran into my lesson during the break to set it up and sort it out. The students would be doing the teaching for the WHOLE lesson and I was scared. It was time to let go! I was so busy readying myself that I forgot about all the green door stuff…
The first student to teach is one who suffers a severe lack of self-confidence that has meant he has not taken part in a presentation to date. Although he attends all lessons and works very hard, he has no belief in his own abilities. That could not have transformed more in today's lesson. I persuaded him to do his lesson, despite his partner being absent and what a teacher he made! Before long, he was circulating the room, giving wonderful praise and encouragement and asking questions of his eager, engaged and calm students. He helped a student so expertly, he probably did it better than I could have. He lead the student to the right answer, without giving too much to them. Now I've got the long road ahead to make him believe in what he's truly capable of. He did a rather sneaky thing though. When the class had coerced him into a prize for the winning chapter analysis, he said he was sure I'd be able to organise it. I was suddenly the teacher again- at the moment that really mattered to them all… PRIZES! Good to know I still have my uses around here! 🙂
Part way into my first English lesson today, I slightly regretted the decision I'd made to declare my disappointment at having no visitors. Today involved a steady stream! That'll teach me to whinge on, won't it?!
I had two visitors during this session. The first asked questions of the teacher (not me today!) and the students to see what they were up to.
The next student teacher brought an energy and subject knowledge to the room that engaged all his learners. In the middle of his session, he had realised how difficult it was to keep students on task and get them to do things as quickly as you wanted them to. He said he respected me much more now… Hmmm. NOW? Oh well, at least we've got there! This was a pretty satisfying moment, I have to admit!
I had a visitor at the very end of this session and I was sad that she only got to see the very end of it all.
I spoke to a couple of students who had questions about their lesson delivery the next day and I spoke to my visitor a little.
I then went down to my only green door of the day. This door held delights I had long awaited! Chef Bardo in action! I even got to see him call out an order and have all his students shout back, yes chef! The management of this room, professional skills being encouraged, high expectations and sheer organisation was outstanding!
I then dashed off to meet a student who I would be team teaching with after lunch. I can't tell you how much this moment made my day! She is a student having some tough times outside of College, but more than that, she is hard working, passionate, creative and would make a wonderful colleague!
We sat and planned through every element of the lesson together. I made a suggestion and she refined it. She made a suggestion and I did the same. We sat for about half an hour making sure the lesson would run smoothly and then it was time! I scribbled a note for potential visitors and opened my door wide.
It would seem that what appeared to be the whole employability team had arrived to make my day! Unfortunately at this point in time, I had my small class of 6 learners and it was rather intimidating for them… We agreed a two at a time door policy!
The lesson wore on and more visitors came and went. Lois lead the learning expertly, whilst also meeting and greeting visitors. Scott, I did shout at you to stop distracting my student teacher… you then ran off. I apologise if I scared you. This wasn't my intention at all 🙁 But I'm pleased I might have that ability in me- who knew?!
I had a couple more visitors who both witnessed my student's game of 'phone a friend.' She invented the game all on her own and it was fab! We had toy phones and we were writing an essay plan. One student was selected (by lollipop sticks) to fill out the next point of the essay plan on the board. If they needed help then they had 3 phonecalls (for the whole lesson) they could use to phone a friend. They had to pick the friend they thought would be able to answer and if they couldn't help then they'd have lost that phonecall. All students were focused on trying to help and we had to gradually build in more rules, such as no conference calling and no calling Hannah! Although I felt what it must feel like for the students to picked on- TERROR as my toy phone rang!
Students took the phones very seriously with saying 'hello, 'goodbye' and holding their phones up to their ears. My student was a fantastic teacher and the lesson was filled with fun and plenty of learning.
I then had a quick tidy up and headed to a meeting about becoming a 'change champion' for my department.
I returned to my desk, handed money to my coordinator for the Christmas do and scampered off to my classroom to tidy up and get ready for a possible graded observation tomorrow. I've just finished everything off but I'm buoyed by today's lesson. No matter what happens in that short moment I'm observed, I know that I'm creative, brave, innovative, passionate and I LOVE my job! I'm sure there are things I can do better and I won't be great all the time but I can accept that because I'm working hard, trying my best and truly enjoying working with these wonderful young people! No single digit number can sum that up and I'm glad I'm writing this down now as in the potential darkness of a graded observation, I may well forget the important fact of why I'm here.
I didn't miss not going on any green adventures of my own today as I was part of a very fine adventure already- being a teacher! It's an exhausting rollercoaster of a job but the high moments more that make up for it all. I might manage a couple of green doors tomorrow but I think it might be even more exciting on the other side of the door, especially when you get to share it with visitors!
After sharing how my day started musically yesterday, I thought I'd share how my day ended-ish today.
Day 4
So today is when my week caught up with me… I have been feeling totally shattered all day. I think writing up every detail of my day might be making me feel even more tired… I apologise if today's post is slightly flatter than what I've produced so far!
I arrived in work this morning, set up for more of my students' lessons, printed their resources and quickly regrouped with my teachers to check that everything was in order.
We set off to a slow start… I THINK the traffic was bad… or my students just didn't get out of bed soon enough. This lead to a frustrating start to the lesson but gradually more of them trickled in… thank goodness! I had a couple of visitors during the lesson but had completely forgotten about having chairs near the door, which I'm sure wasn't particularly welcoming to them- sorry!
These lessons were great yet again and one pair in particular managed the activities effortlessly; directing the students with appropriate questions, careful pacing of activities and clear explanations. I wondered how they made it seem so effortless… I think I was a little envious of their skills and team teaching with my students in future lessons looks even more appealing now!
I spoke to a student about his written work in the 'break' and readied my room for the next class.
I had one student for the first 10 minutes. One solitary learner and me. This was an even more nervous moment than earlier in the day. The others were sufficiently 'told off' in the only way I can tell anyone off… serious disappointment in them being unable to meet my high expectations.
We explored character highs and lows in the novel. Students had to create a graph (a rare moment of embedding maths into an English lesson!) and were then asked to 'sell' their ideas to the rest of the group. Students were given 10 coloured counters and as they spoke to each of their peers and questioned them about their choices, they had to give them a number of counters they thought were deserved. The winning entry was then transferred to our online graph for all students to view from home on our website. I had two visitors during this lesson: Rocky from student services and Anna from my department. Both my learners and I are getting used to visitors at any point during a lesson now and it's great. I feel a little more confident that when I am formally observed, it will affect their behaviour less as they'll be so used to it. Yet another advantage to green doors exists.
I then tidied my classroom, spoke to a few learners and carted my things out to sort out for tomorrow… perhaps it will hold my graded observation. I hope so.
In my sleepy state this morning, I left my lunch at home 🙁 so I had to buy some. It wasn't as nice as the soup that was sat in my fridge at home. I checked a few emails and today's Padlet wall for open classrooms. I then arranged resources, did some laminating and prepared my academic induction on questioning and speed dating at 4pm. I organised some things for my lessons tomorrow and realised that it was 3pm. I reflected and concluded that I'd completed a sufficient amount of work to warrant a green door adventure.
I walked around almost the WHOLE College: all of D floor, all of C floor, all of B floor, all of A floor, all of HHTTP, all of construction and engineering… I think you know what's coming! Well, almost!
I did find one door with a green hanger but the teacher hadn't seen it was there and I didn't stop long. What I saw was great though with students naturally collaborating with one another.
I then went to a colleague's lesson that was two doors down from where I had started! Here, the students were working to brainstorm for the upcoming exams. I was disappointed not to have seen any other green doors that I hadn't already visited.
I returned to my desk, grabbed my resources and headed to my academic induction session. We covered questioning skills, had some great discussion about hands up or selecting students and shared some new ideas. I had invited other staff from College along to speed date and problem solve. I had almost all of the employability team- boy, do they get about?! as well as two BITE team members. All attendees put on stickers with things they wanted help with. Everyone was encouraged to move around the room and share ideas with one another. It was a buzzy session and it was hopefully useful to the attendees too!
I stayed behind to speak to individual teachers who had questions and returned to my desk at about 6pm. I then had to check over my first lesson for tomorrow including paperwork, handouts, resources and preparing the classroom.
I have some exciting things in tomorrow's lesson that I hope will go down well. With any luck, attendance and punctuality will be good so I don't have to make my disappointed face and keep students back afterwards… It would make for a much nicer Friday if I don't have to do this!
I will then have a tutorial session: some 1-1s will be needed, we'll be doing some revision sessions that the students have prepared and we'll be doing final planning for the following week's charity fundraising activities.
I then run a lunchtime support session until 1.15pm. After this, I'll be going down to B-100 to man the end of Open Classrooms Week celebration or commiseration. Staff can come and give feedback and make suggestions for the future. There'll be cupcakes and drinks between 11.30pm and 2pm but green doors can continue all day! I'll then be teaching from 3pm so unless I have visitors to my side of the door, there'll be no more green door adventures for me. I am sad about this but I await its return next year. I feel so much more a part of all the teaching going on at the College after this week, despite the lack of green this afternoon.
Tomorrow might see my graded observation and all I can do is hope for everything to swing in my favour now because I've done all I can. I am spent and hopefully I'll still be standing energetically enough to see the day through! On that note… sleep time for me.