It has been a while (until the last few days) since I've blogged. This has been due to a number of factors; imminent change in job role (more about that tomorrow), change of location resulting in a longer working day, writer's block and LOTS of CPD responsibilities. Here's an update of what I've been up to and if you'd like to know more about Pass It On CPD and read blogs from our teachers in the coming academic year, please follow us here.
#ReadTL14
You can watch a video that captures the day here.
It was in June 2013 that the idea of a Teaching and Learning conference was shared at a Pass It On Team meeting. We had just been wowed by the Times Education Festival and this was a long-term dream. Nothing further was said on the matter… until I decided in February 2014 that it would actually be quite 'cool.' I was thinking low-key. Whoever I could attract internally and our link schools/Colleges.
It was then that I decided to get someone to help me and offer some advice. I DMd Rachel Jones (@rlj1981) and we had a Google Hangout. She got me even more excited and I was persuaded to 'think big.' I made a list of all the educationalists that I wanted to be speaking there. Some even started saying yes (they later dropped out- but they made me think it would all be possible!)
I even emailed Geoff Petty, who was unfortunately unable to attend, but I did get a lovely reply from him. Massive amount of starstruck!
It was then that I decided to let the College know that 'we' were now holding a teaching and learning conference!
This was already too late. The principal had been to a City and Guilds event where she'd bumped into Bill Lucas. Bill had been chatting to her about the conference (I'd invited him) and she'd spent some time nodding along, looking as though she knew what he was on about. She then had to admit she didn't have a clue and he was going to have to explain. It probably made a lot more sense when she discovered I was behind it all! Although very embarrassing, I feel so lucky to work in an organisation where I know I can be as autonomous and creative as this- knowing that it would be a 'yes' in any case!
I then had to try and find sponsorship. This was going to be difficult. I was not a local person. I didn't already have business links and I didn't have a clue where to start!
The date was getting closer and closer, I hadn't finalised the speakers list and we were not getting anywhere fast with sponsorship. One phonecall ended with me somehow having to give them money and to pay the expenses of a train and hotel if I wanted them there. Erm… I don't think that sales pitch could have gone worse?!
Things were looking bad. Very bad. After numerous cries of 'help me please!' Someone finally listened and secured us a couple of sponsors. They weren't going to cover the whole cost so the College would fund the remainder. I felt very guilty. I had arranged this conference and hadn't even managed to do it properly. Anyway. The conference was back on and it would be free- for this year at least!

I had decided, in my infinite wisdom, to hold a 'Teaching and Learning Takeaway' at the end of the day. This would involve a marketplace of resources for attendees to take away. What it ultimately involved, was Steph Moakes (newly arrived at the College and plunged into all sorts of unexpected, bizarre tasks!) printing, cutting and laminating for three solid days. We did have various other staff pop by briefly to lend a hand too.
On the Thursday, a colleague admitted that he had a few students who needed to complete their volunteering qualification- by Monday. This could not have been any better timing. Well, it could. Tuesday would have been FAR better! When Friday arrived, I was feeling rather skeptical of these volunteers. If they had avoided doing their hours all year, what kind of students would we get saddled with for the day? I needn't have worried. They were all so keen to complete their hours that they'd do anything we told them to do. One of them was beyond this though- so great in fact that I'd employ him tomorrow if I could and we used him a few more times in the following week too. He will be receiving an excellent reference!

We ran around doing everything else and we felt as though we were nearing the end of it all when the students brought up some parcels that had arrived at the post-room for Steph. We hadn't a clue what they were. We then realised they had come from City and Guilds. They must be banners. We pulled them all out and set about erecting it. How many people does it take to put together a banner (albeit a very large one!)? Well, 7 to be precise, although to be more accurate- one tall person and one student with some brains!
We cleaned all the rooms, moved out unsightly rubbish and random clutter (a skeleton, a random piece of wood in the conference room with a patch of baby blue paint on it and various sizes of bins). It felt like an über-Ofsted visit!
Steph and I then headed for a pre-conference dinner and I enjoyed a very pleasant night in a hotel. My long commute in the morning could be avoided and I would hopefully get a good night's sleep. I had a bath. I haven't had a bath since I moved down south. Not because I'm seriously minging but because I have only had a shower to wash in down here. That was utter bliss and I fell asleep almost immediately. I awoke to a beautifully sunny day and felt refreshed.
Once I arrived at work, I discovered that Paul had arrived early from City and Guilds- to set up the complicated banner. D'oh! Well, we had made his day at least!
After a lot of nervous excited jumping up and down, attendees began to arrive. We put some music on, people ate breakfast and a relaxed atmosphere ascended.
What follows are my notes on the day as I dashed in and out of all of the workshops. The biggest drawback with organising the day myself- I had arranged each of the speakers and I wanted to see them all!

Sally Dicketts introduced the conference, as the principal of Reading College, Lesley Donoghue, was sadly unable to be there.
– Sally welcomed everyone. She introduced Activate Learning as a distinct group of schools, colleges and higher education providers.
– Today is about learning, which is a distinctive partnership of brain and emotions.
– She referenced the work of Carol Dweck on growth mindset in relation to learning.
– Learning needs the right climate, environment, the right relationships and emotional resilience.
– She thanked both of our sponsors.
And Lesley- because without her leadership, this day couldn't have happened.
Then the keynote came from Jackie Rossa. Now I had secured Jackie quite last minute and we hadn't really spoken about her keynote. I had no idea what to expect! I needn't have worried.
She remarked that she was surprised to see so many teachers here on a Saturday. I wasn't. I had reassured colleagues for weeks that it was fine. Plenty of people would be there on a weekend. Quite a lot of us teachers love the job so much that it is a vocation for us- we will fill our time with it because we're genuinely interested in it all… And sometimes because we have to but none of that today- we were indulging in learning only! 🙂
– Education is a bit like broccoli. She asked us to think about why it might be.
– Later on, she asked for some feedback on what we'd come up with. Ian Grace responded that people don't like it but it's good for you!
– She spoke about the battleground of education- profound learning versus results. What are we preparing students for and which one matters the most?
– She warned that we shouldn't be using a student's starting point to predict their future success.
– Students might ask- why do we need a teacher when we have Google?
– Jackie says that we can help students to love learning.
– 'Don't cover the curriculum, let students uncover it.'
– 'Make learning the drug of choice for the 21st century.'
– 'Let's activate the learning.' If we expect great things of learners then we'll get it far more than if our expectations are low.
– 'The best lessons are messy.'
– She returned to broccoli and said that it's fractal: the deeper we go, the better.
– 'Go forth and be more broccoli!'
A quote from Jackie after the event:
'I was blown away by the energy and enthusiasm of all the people I met yesterday. It really did renew my faith in the future of education to meet so may passionate and committed people.'
I got up for a brief moment in front of the room full of people to let them know about a room change- SCARY! Little did I know how used I would be to it by the following Friday.
Workshop 1
Project Based Learning

Small groups were discussing projects about animals: How can we make it into a business? How can we provide an approach to the curriculum that embeds employability?
This room was filled with people discussing the curriculum for a variety of different animals. I had first heard about Alex's approach to this when he had first introduced project based learning to his team at the College. This time, he had Sarah Williams too and they made quite a formidable pair. Perhaps what I loved most about the day was a chance to see colleagues who I admire a great deal, sharing with others.
Sarah said on Twitter afterwards-
'Buzzing after delivering a session at #ReadTL14 with Alex on PBL. So much energy and enthusiasm in the room!'
Assessment for Learning
The room was laid out like a formal exam, so that the feelings about formal assessment could be discussed. Obviously, I knew this was planned but it still terrified me! I've always had those feelings of dread upon walking into an exam room.
After the session, Angela and Rachel commented about the energy in the room and how much of a pleasure it was to have been in a room filled with engaged, motivated and enthusiastic teachers. And they weren't just talking about one another! If there are two teachers who I could learn most from, it's these two. And they fit with the theory I have about teachers- if they've ever taught English as a foreign language. Chances are, they're damn good teachers!
Gamification
I sat with one of our Go Team, Connor Whyte, who loved Class Dojo as soon as Nikki had shown it. He thought the competition element of it would really help lower level classes to work harder and be more aware of their behaviour.
Nikki Gilbey had to leave for #ukfechat in London but said she wished she could stay for the rest of the day. You can read more about her session from Cheryl Pennington here.
Action Research
I just missed Emily Lewis presenting and I'm really annoyed. She's someone I didn't even get the chance to meet on the day! She arrived whilst I was with someone else and then she had to disappear off shortly afterwards. These two ladies were sharing what they'd done as part of their action research. There seemed to be some fruitful discussions taking place and lots of questions afterwards.
Workshop 2
Leadership
Ben Waldram presented the failures that occur when you become a leader- 'First Attempt in Leadership.' He shared a lot of great advice and I wish I'd been able to stay in this room; about to become a leader myself.
This is where I stopped making notes as I'd forgotten I needed to make them for you as well as myself. I was mainly enjoying what he had to say.
I started tweeting a lot more from this point onwards instead and there's a real sense of the day for you on Twitter with #ReadTL14
Below are some briefer notes about each session.
Perfect FE Lesson
Jackie was running a full-on active session about what the perfect FE lesson looks like. I'm sad to have missed this
Analogue and Digital Differentiation

I love Rachel Jones. She just really gets learning and how to do it best- in a really fun yet rigorous way. I walked in in her sharing some of the resources listed here in her review of the day.
Oh, and she had goodie bags!
Adam Blackwood
This session was like stepping foot into batman's world. The gadgets were seriously impressive and the level of technology being showcased was immense! I was very impressed by his use of cameras to film students and lessons and may need to explore some for myself.
Lunch was prepared by our very own kitchen- and was delicious for as long as it lasted for me. Quickly dashed off to do forgotten things before workshop 3 commenced.
Workshop 3
Mark Creasey
I was so looking forward to this, and like Ben Waldram before him, I wish I could have stayed but I wanted a snapshot of all sessions: I was being greedy! He shared some great ideas and philosophies around learning, homework and most of all, unhomework. He had been lovely in emails from the moment I first made contact with him and this didn't stop either: I look forward to perhaps working with him again in the future.
Mary Kitchener
Mary's session seemed really interesting and once more, I wish I could have stayed longer. She was sharing the concept of action learning sets as a learning and reflection tool. There were some fruitful discussions taking place and I have been assured by one of the attendees, an assistant principal, that he and the people he was working with, plan to meet again in the future to solve problems together. I may have to be in touch with Mary to see how we use these more in the future.
Paul Stacey
Because I'd spent too long with Mark and Mary, I had less time for both Pauls.
I dashed into Paul Stacey's session and they were busy coming up with learning company ideas and concepts. He had been introducing how he had approached the start-up of a recent learning company and participants were then translating the approaches into their own contexts.
Paul Emberlin
Paul and his student were sharing their use of Google with the room. Having the student perspective was particularly interesting as it offered a different kind of persuasion for attendees and this was one of the main comments in verbal feedback received at the end of the day.
The day ended with our Teaching and Learning Takeaway (here are some of the resources shared) and our students went around with iPads to collect attendees' feedback.
It was a very exhausting time in such a short timescale, and just before a very full CPD week too but it happened, we pulled it off and I'm already looking forward to the fact that a whole year remains to plan the next one- what a luxury!
Here's all of our feedback from the day collated.
Get Saturday 27th June 2015 in your diaries for #ReadTL15. Keep updated with future events by following our blog!
Whole College CPD Day
The day began with teas and coffees and the principals' speech.
The English and Maths strategy for the new year was shared, along with this video.
Then the legendary barbecue came, with the College kitchen lecturing staff excelling themselves once more.
In the afternoon, staff headed off into their allocated teams and began work on representing the learner journey in video form. The level of effort and creative activity ensured that all videos were astounding and upon entering rooms (having to deny I was a spy), such high levels of collaboration and engagement were witnessed.
Facilitators were chosen from business support staff, teaching staff and managers. There were two facilitators per team and they were all shared these instructions and this video.
The aim was for all participants to leave the room with a fuller sense of what their role is within the learner journey; especially an appreciation of the importance of their role. This is to begin to break-down any perception that the success of students is pre-determined or that it is someone else's responsibility; that there is no impact we can have on where their destination will be.
After the creation and (in most cases) submission of videos, all staff headed to the canteen once more for the final activity of the day: starting to turn these learner journeys into something more tangible. The first CPD afternoon of the new year will be an update on the progress with these actions.
Town Meeting
On Wednesday 2nd July, the College held a 'town meeting.' Future students of the College, employers, university representatives, the advisory board and teachers at the College were all invited to discuss the transformation of our curriculum.
It was just after attending
Christopher Waugh
's session at the
Wellington College Festival of Education
that this event was born. In it, he spoke about the transformation of the curriculum within his school. One of the events he referenced was a 'Town Meeting' where students, parents, employers, universities and staff are all invited to rethink the curriculum and input about what they'd be expecting from it.
In the midst of the College examining the curriculum and what our offer really gives to students, we felt that this meeting could be our initial starting point.
Rachel George (
@rachi_poodle
) and I were nervous but this meeting came within a week where a whole ship load of CPD was taking place and being facilitated by me. I was becoming used to talking (or at least attempting to talk) to a whole room of adults; but that didn't prevent the nerves from swimming around my stomach.
We were using the ASD Centre; a brand new and beautiful space that is owned by the council but is opening officially in September. This space is truly beautiful; with flexible spaces and a gorgeous garden area too (which may have been used for a bit of flat-out exhausted collapse afterwards!)
Brains were warmed up by the task of creating a brand new fifth season. This activity would hopefully promote the kind of 'let go of everything you know and think creatively' thinking that we wanted.
Everyone was then asked to go out into the beautiful sunshine of the outdoor space in the ASD Centre and they were presented with a series of pictures. They all had to pin the curriculum on the pictures- where could they see subjects? Possible skills development?
This was then discussed together before small groups were asked to first think what the curriculum of a giraffe would look like- because we had a funny picture of a giraffe and they're great!
Many of the themes that came out of this discussion were around transferable skills and often, a course where students were working on totally different aspects of the giraffe simultaneously… Depending upon the level of knowledge and expertise they had. This would even dictate the placements they had; whether that be in the zoo or out in the giraffe's natural habitat. One of the comments was that it was essential for us to study the giraffe first, what its natural habits were, its behaviours and movements. This would translate directly into studying a person at work who you were aiming to achieve the career of.
All attendees were asked to provide one final 'essential' for us to take into our future curriculum planning. The over-riding thing here was undoubtedly the transferable soft skills that enable someone to be able to do a job. Any job. All of the employers were sharing that they would definitely employ someone on their attitude in an interview. If this wasn't professional and motivated then they wouldn't even be considered for employment.
There will be further fazes of the same meeting in the new term with more parents and students as well as hopefully more employers.
We intend to offer a list of suggestions to departments at the College about how they might work well with employers in the future as ultimately, this is who we need to be succeeding with.
The future of this project will be determined over the next few weeks and if anyone is interested in shaping and transforming the curriculum across the College; please contact
Hannah.Tyreman@i.reading-college.ac.uk
with your vision and/or availability.
North Herts Collaboration
A group of staff arrived from North Herts College on Thursday 3rd July so that we could embark upon a collaboration. The aim of getting together is so that we can work to share good practice with one another. Staff from Reading College had visited North Herts a couple of years ago and came back with ideas for learning companies and other curriculum developments. North Herts visited us recently with a view to sharing ideas about technology and CPD.
The day began with some speed dating so that staff could begin to become familiar with one another.
North Herts and curriculum
North Herts introduced some of their approaches to curriculum design, based around the idea of a T shaped learner; with a breadth of capabilities and qualities. They also have the strive towards an 'expert student' at the heart of their curriculum. These expert students have thinking, entrepreneurial and social skills aplenty.
The units of their curriculum can be planned in a range of ways: Whole College, Whole academy, Whole curriculum area, Online, Cross-curriculum and English and maths. Tutorials are placed around the outside to support these units.
We felt highly envious of their 'innovation hub' and their plans for staff to audition to gain entry into it.
I loved the way in which one of their key aims is to provide 'once in a lifetime opportunities' for learners. It's outside of the qualification they'll gain. What else can we provide them with?
With project based learning, both Colleges agreed that the most common concern was where do the assessments go in among all those 'experiences'? They said the mistake they made to begin with was the fact they began with assessment. They would advise planning the experience and the assessments will go in afterwards. It does take careful planning to get something like this right.
Paul Emberlin and Google
We have IT literate students and non-literate IT students too; we shouldn't forget this. The 21st century learner can also be a newbie to technology!
Through Google, the students have far more opportunities to direct what they want to learn, when and how.
Looking back over their statistics from last year's intake, they had 100% achievement, 100% progression and 60% of their students have achieved a first in their first year of University.They feel that Google, and the skills it helped to develop, played a strong part in this success.
Google is used for flipping learning in that class discussions take place on the community or in Google documents prior to the lesson. Google forms are used on their course and as a result, across the College, for ongoing student feedback.
Last year, a student created a Google+ community and they took the lead from her in terms of its structure, layout and the type of content being shared.
I was due to share some slides on CPD but all slides from Reading can be viewed here.
The presentations were followed by plenty of time for sharing good practice with colleagues from respective departments. Areas were visited and ideas were discussed and dissected.
This wall presents some of the ideas generated on the day.
All staff left by being invited to a Google+ community and were asked to share their future targets for collaboration and innovation. We even had leftover Teaching and Learning Takeaway materials from #ReadTL14 for them to take!
There are things to be learnt from each side and hopefully this meeting was merely the first in a longer working relationship.
Bill Lucas
Bill Lucas was contacted to speak at the College as part of #ReadTL14. Unfortunately, he was unable to make it, but he could come on another date, so we booked him straight away.
It was to be the Monday after CPD week and we were worried people wouldn't attend, wouldn't see it, wouldn't still be around. So we decided to market in a bit of a different way. It began with Bill Lucas face masks and an iPad- we signed up close to another 20 people this way. We then found out that Ian had a Lewis Hamilton cut-out so we decided to make a video.
Ela Owen
made the introduction to
Bill
Lucas
and summarised all the ways in which he has conducted research in vocational education and how he has been part of the Activate Learning journey for a number of years now.
She said that she views him as more of a Teaching and Learning spiritual soothsayer, forecaster and guiding light on learning models; getting under the skin of what really matters. He uses powerful language that has real impact and meaning: learning lenses, growth mindsets and learning muscles.
Our history with Bill has been exciting and extensive:
His work with Professor Guy Claxton on 'Building Learning Power' and the 5 Rs has influenced the work of our foundation and skills for life departments.
In 2010, he introduced us to the 4-6-1 model and some cross-curriculum comparison took place within our plumbing, furniture and hair & beauty departments.
His action research models were then introduced, and he encouraged us to see research as being beyond the realms of HE Providers.
He lead a session on his then new book, 'Revolution: How to thrive in crazy times'.
In 2012, he lead us on a City and Guilds skills development initiative and engaged us in their debate on the exploration of vocational pedagogy.
Most recently, in May, he engaged us in a further debate on vocational pedagogy, with a final paper due to be published later on this month.
Here are my notes on the day: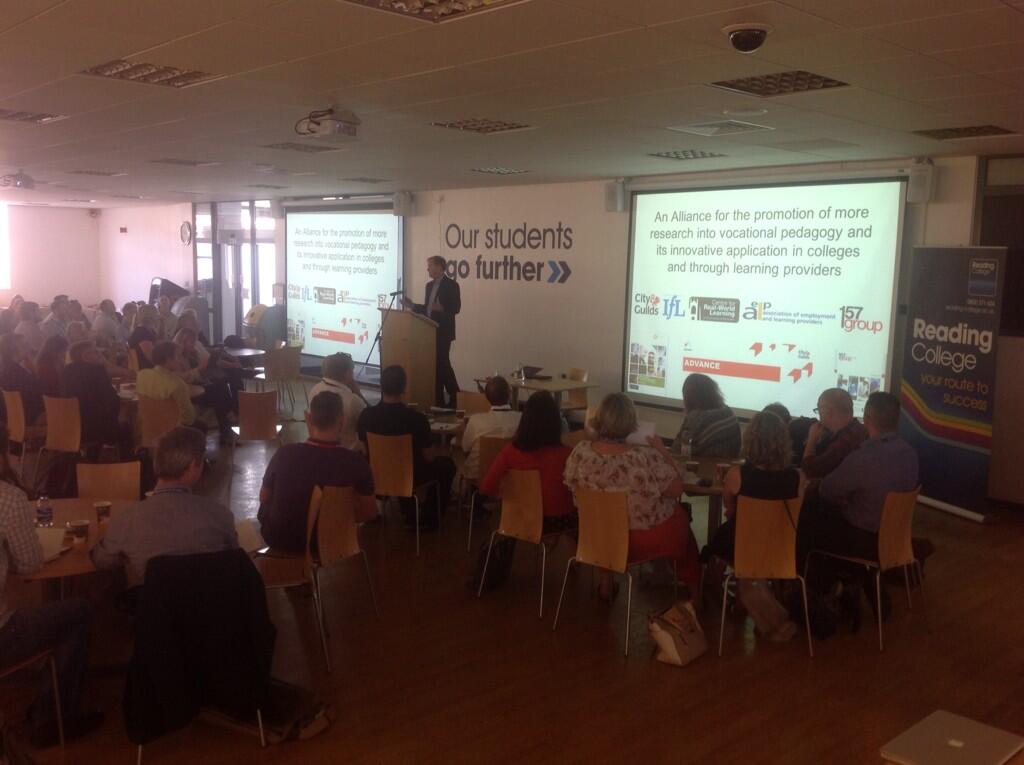 Bill stated that vocational pedagogy is worthwhile, complex and far more complicated than other pedagogies. In vocational education, he suggested that we need to move towards a more confident future where our practice is fully underpinned and informed by research and theory.
Pedagogy- the series of decisions teachers take in the moment with the learners for whom they're responsible.
Less than 10% of the people in the room use the word pedagogy.
This is the core of what defines us if we're to be outstanding. Perhaps we just don't like the word or we shy away from its use.
We move beyond our boundaries. For many students, their tipping point lies outside of the traditional learning environment.
The FE place has become so busy that it's become so up itself- the rigorous systems of ticking Ofsted boxes clouds the possibilities for teaching & learning to develop.
He spoke of educators' unintentional blindness- what is it that you've stopped noticing in your practice?
Professional research and enquiry
Professional enquiry will be used to improve learners outcomes, rather than to demonstrate that we're clever clogs.
The biggest effects on student learning occur when teachers are learners.
Research is far more powerful than political borders.
Research journals is becoming a way of being. It's not a project but a long term focus.
This is more than reflective- it's having the evaluative skills to make positive change in our practice.
The 6 Rs
Bill
then spoke of the 6 Rs and their importance in designing a curriculum:
Remembering
Resilience
Reflective
Responsiveness
Reciprocity
Resourcefulness
Resilience is most difficult when answers are ambiguous and/or they're working at the edge of their comfort zone.
Flexibility and responsiveness are crucial.
Reciprocity is the give and take, the social aspect of learning.
Resourcefulness- you need a good toolkit of resources to rely upon- who wants to be a millionaire style?
Piaget- intelligence is knowing what to do when you don't know what to do- having resourcefulness. In order to teach this, we give students a range of practice in a wide variety of contexts, with practise. Aimless practise without structure won't cut it.
The wider skills need to be acknowledged and mapped into students' progress and practice.
Habits of Mind
Habits of mind need to redesign the education system in order for people to think like engineers… Or like anything!
Signature pedagogy- the learning methods we use MUST lead to also developing habits of mind.
We are creatures of habit and habits of mind will be what ultimately transforms our curriculum.
How students see themselves, matters.
How we give feedback in those 1-1 moments is vital.
CBT is worth looking at.
Shock and love students out of one mindset (fixed) into another (growth).
Open badges has the capacity to transform what we're doing with feedback and accountability.
A fixed mindset believes that they're full- students still want to see if they can hand in some work which is 'good enough.'
If we demand more of students, they will commit to that- they will learn more quickly.
Decision making in the classroom
He also said that all decisions that are made in the classroom should first come from deciding between these things:
Attitude to talent (expandable or fixed)
Nature of activities (authentic or contrived)
Attitude to knowledge (questioning or certain)
Means of knowing (practice or theory)
Organisation of time (extended or bell-bound)
Organisation of space (workshop or classroom)
Approach to tasks (group or individual)
Visibility of processes (high or hidden)
Proximity to teacher (virtual or face-to-face)
Role of the teacher (facilitating or didactic)
Not a single one of these can be ruled out as in particular contexts; it will be essential that learning happens in a specific way.
The question all educators should be asking is, 'If I do x, will y be achieved?' and it is crucial to decide what y is first.
Some quotes from staff:
Dax Mares- 'The extra of education, through the Go further weeks, has really lead to the enrichment of our learners' education.'
Scott Reilly- 'We need to think more about the 'y' so that the right 'x' can be decided upon.'
We have to think about:
The contexts
The learner (sometimes damaged/ sometimes deeply passionate but finding themselves having to learn English and maths)
The course- what does it beg of us and the learners?
What do we know about teaching and learning? What do we know about methods that work or not?
Be clear about the goal
Understand the nature of your subject
Be clear about the breadth of desired outcomes
Understand the range of learning methods that may, taken together, provide the best blend
Bear in mind contextual factors
We should be selecting the learning methods that lead to the most learning.
6 broad outcomes of vocational education:
Routine expertise- reliable skill
Resourcefulness- working knowledge and situated reflection
Functional literacies- verbal, written, numerical, graphical, digital
Craftsmanship- pride in a job well-done- they're not just doing this because they're told to. Ron Berger has written about employers as role-models and group critique.
Business skills and attitudes: Commercial, entrepreneurial, social
Wider skills for learning: Perseverance, resourcefulness and other things from before.
Poor models for vocational education in the past have included learning alongside someone more experienced. This doesn't necessarily mean that they're the most positive, clear in explanations and effective teacher that the learner could have.
Doing practical things is just as (if not more) complex than completing quadratic equations.
Doing things with your hands is not less clever than writing or arithmetic- but society, since around 1850 (when wrought in was ignored) has made it that way.
PHEW!